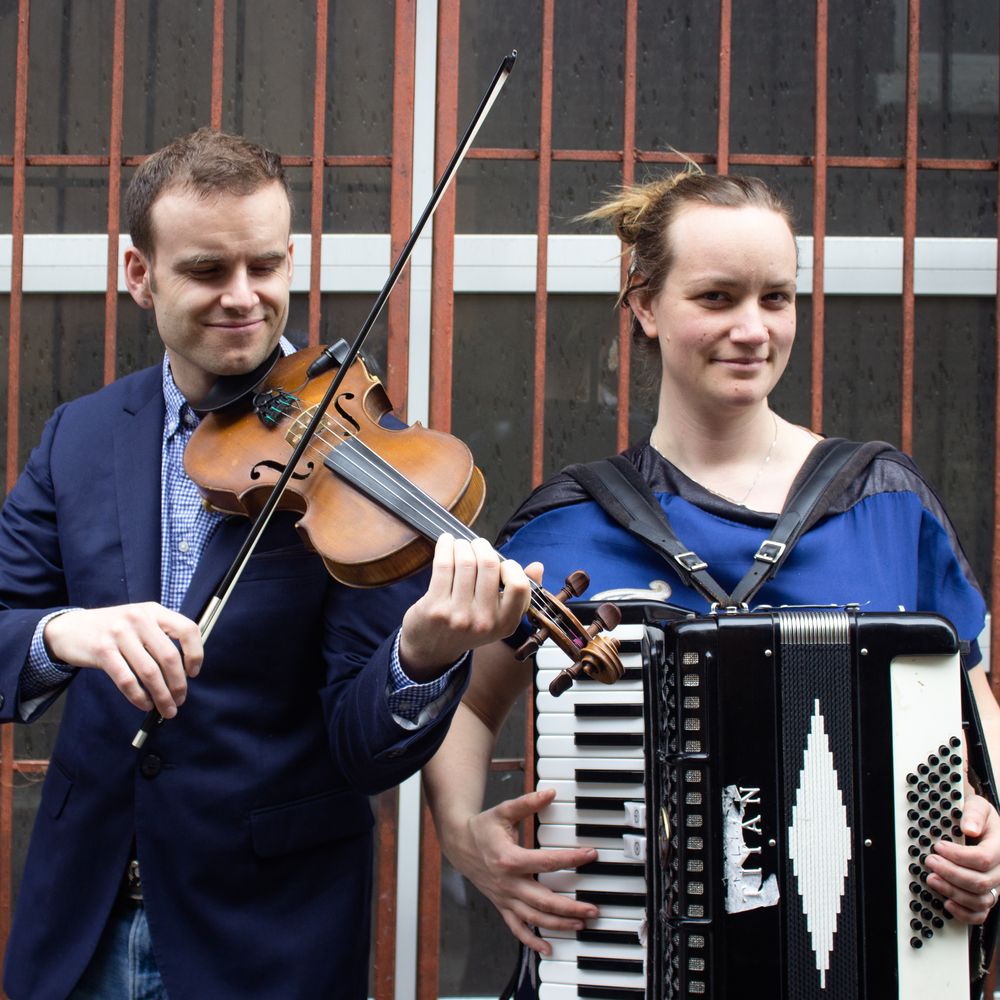 Nathan Smith & Emilyn Stam
Traditions swirl and intermingle in the music of Canadian powerhouse multi-instrumentalists Nathan Smith and Emilyn Stam. Drawn together by their shared love of québecois fiddle and piano music, Nathan and Emilyn have joined forces to explore old-time, Scandinavian, and French traditional music. Their strong vocals, clever songwriting, and unique instrumental magic are an enchantment and a delight to audiences. Both are prolific tune composers with a flair for combining their creative spark with the timeless vitality of traditional songs and tunes.
Originally from Smithers, BC, Emilyn (piano, accordion, fiddle) was mentored by fiddle innovator Oliver Schroer and has toured and recorded extensively in North America and Europe with Eastern European party-punk-super-band The Lemon Bucket Orkestra, Italian accordionist Filipo Gambetta, clarinettist John Williams, and Dutch balfolk band Té. She co-founded Balfolk Toronto, a new movement of social folk dancing in Toronto which hosts weekly drop-in dance evenings with live music. She regularly crosses over into other art forms, collaborating with improvising clowns, theatre groups, contemporary dancers and poets. Emilyn has taught at various fiddle camps across Canada, teaching both her unique piano accompaniment style and fiddle classes in ensemble playing, fiddle composition, Canadian fiddling, and Oliver Schroer tunes.
A North Bay native, Nathan (fiddle, guitar) grew up playing old-time fiddle tunes alongside classical violin. He now plays, sings, and writes for his bluegrass band The Barrel Boys in addition to appearing with show band Leisa Way and The Wayward Wind, Western Swing outfit The Double Cuts, bluegrass dobro master Ivan Rosenberg, and vocal trio The O'Pears. He has taught bluegrass and old-time fiddle at camps across Canada and plays regularly for balfolk and square dancing.
Nathan and Emilyn also perform regularly alongside bassist Robert Alan Mackie and clarinetist John David Williams in their new project, "Vinta," a dynamic quartet specializing in original and traditional dance tunes from Canada and western Europe.